About
Ecole Georges H Primeau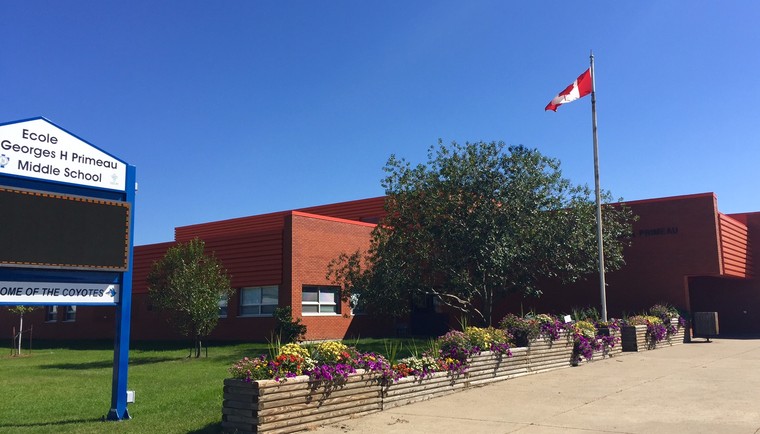 811 Grandin Drive
Morinville, AB T8R 1L7
Phone: (780) 939-3593
Fax: (780) 939-3576
English and French Immersion Programming - Grade 6 - 8
Who was Father Primeau?
Father Primeau was Parish Priest at St. Jean Baptiste Parish for 12 years, from 1966 to 1978. He is fondly remembered for his tenacity in completing community projects. He spearheaded the revival of Morinville's annual St. Jean Baptiste celebration which became Frontier Daze.
 Known as a persistent lobbyist, his efforts resulting in the paving of the parking lots at the Parish Hall and Arena in 1970 and 1971. Father Primeau was instrumental in having the St. Jean Baptiste Church, Rectory (1974) and Convent (1978) designated as Provincial Historic Sites. A contribution from a parishioner's estate enabled him to have the church bells electrified in1976.
 \Father Primeau was devoted to serving his parishioners, and no job was too big or too small. He was named Morinville's Citizen of the Year in 1968. Father Primeau passed away in his home in Morinville on April 27, 1989.
Georges Henri Primeau – J. Ellenburger - 2012
A man who rekindled the meaning of community in Morinville so well that after twelve years of service he was petitioned not to leave the St Jean Baptist Parish.
Georges Henri Primeau was born in St. Paul on June 17th 1916. He studied in St Paul at the Jesuit College then continued in Edmonton at St Joseph's Seminary in 1940 and was ordained by Archbishop J. H. Macdonald on September 19, 1944. Shortly after he was ordained he was designated for the Parish in Legal, as an assistant to Father Emile Tessier. He then served in the communities of La Corey (1950), Mallaig (), Legal (1958) and Morinville (1966).
Father Primeau has always considered it to be a privilege to serve his community. While he preached in Legal he conceived Legal's famous yearly celebration "Fête au Village" and the recreational grounds upon which they are celebrated upon: Citadel Park. When he moved to serve in Morinville for St Jean Baptist Parish in 1966, he helped popularize Frontier Days, which is a celebration similar to our very own St Jean Baptiste festival. Many have said that once Father Primeau left, Frontier Days lost its magic. With Father Primeau's contagious enthusiasm, despite the hard work, he inspired the community to volunteer for the festival. He applied the saying, ask not what your community can do for you but rather what can you do for your community.
Two years after his arrival in Morinville his hard work and dedication towards the community wins him the citizen of the year award. Mayor Stapleton had this to say on the presentation of the award; "He considers it a privilege to serve his community, and he has succeeded in awakening a like spirit in his fellowmen. Father taught us that the members of the community can be closely be knit in the bonds of a Christian charity only by that, togetherness both in work and play".
In the years to follow, Father Primeau would take it upon himself and the Parish to pursue projects that would augment the quality of life in the community. He paved the parking lot of the arena and recreational center (1970-71). By 1974 Father Primeau and his good friend Hon. Horst Schmid, Minister of Culture, accomplished the designation of St Jean Baptiste Church and Rectory as Historical Landmarks. Father Primeau's resourcefulness managed him to assemble government funds and volunteers to fix the roofs of the church, rectory and recreational center for $4,000 compared to the estimated cost of $92,000. The following year he led the entire community together to restore the Morinville cemetery. Four years later Notre Dame Convent would also be added under the title of Historical site. After the nuns abandoned the convent in 1972 no one knew what would happen to the convent. The cost to maintain or renovate would be more expensive then demolishing the building. Having the sites designated as Historical Landmarks saved them from destruction. These projects slowly accumulated respect and a legacy for Father Georges Primeau.
Father united the town; he created a community by his hard work and devotion. Father Primeau left behind the many projects that beautified the town for future generations to enjoy. One to be noted is the creation of St. Jean Baptiste park, located directly west of the church which enhanced Morinville's downtown area. But of course his legacy will live on through those who remember his dedication, energy and spirituality. He was such an inspiration to the town and people he met that not only does he have a mural in Legal, a tableau in Morinville's St Jean Baptiste Park but also a middle school named in his honour.
Our Other Community Schools and Our Community
Our Other Community Schools
Notre Dame Elementary School 
(K-Grade Five)

St. Kateri Tekakwitha Academy 
(K-Grade Five)

Morinville Community High School
(Grades 9-12)
Our Community
Town of Morinville