Faith
Our Faith Theme
Over the next three years students, staff and parents will focus on three virtues that Jesus modelled. This year our Faith Theme is Living Like Jesus - We are Shepherds. To this end, Ecole Georges H. Primeau Middle School will continue its commitment to our works of service, social justice, prayer, school masses, liturgies, celebrations and retreats. We look forward to our continued relationship with St. Jean Baptiste Parish as well as exploring ways to enhance faith discovery within the classroom, community, and the home.
St. Jean Baptiste Parish
Please click here to access the St. Jean Baptiste Parish website.
Father Trini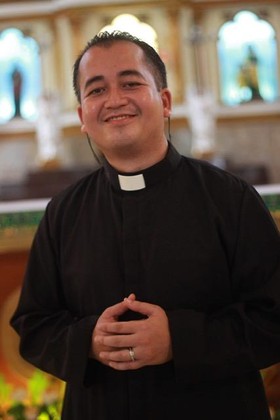 Our parish priest is Father Trini is from the Philippines, where he obtained a degree in Philosophy and Theology.  He became a priest in 2007.  Since then he has worked in a seminary in the Phillipines, as well as St. Catherine of Alexandria Parish in Lac la Biche, prior to coming to St Jean Baptiste Parish
New Seminarian
Hi, my name is Brother Adrian Tumanda and I am a seminarian from the Diocese of St. Paul. I studied at Newman Theological College and my seminary is St. Joseph Seminary in Edmonton. I am currently in my internship year and am assigned to St. Jean Baptiste Parish.  So, God willing, I will become a priest someday.
Before coming to the seminary, I finished my degree in Bachelor of Fine Arts with a major in advertising arts. I love art, painting, drawing, designing, music etc.  I also love to play the guitar and sing. If you are interested in faith or art, I can always share something with you.
School Chaplain - Mrs. Sansano
We are very pleased to share that we have Mrs. Louise Sansano serving as our school chaplain for the up-coming school year. Unique to the Catholic school is the capacity of its teachers to model and witness the Catholic faith to students. Through the spirituality of communion and the permeation of faith and wisdom within pedagogy and curricular content, our students experience what it means to live like Jesus. Therefore formal, intentional, and visible supports should be in place within the Catholic school so that its teachers provide optimal faith based learning experiences for students. The school chaplain plays an essential role in supporting the principal and all staff in realizing these outcomes for our schools.
As ongoing priorities for our schools, the school chaplain will work in cooperationwith administration and faculty to:
Create opportunities for the involvement of all students in classroom-based faith activities, being especially conscious of incorporating otherwise marginalized students;
Foster positive interpersonal relationships among students and staff to promote a sense of mutual trust and belonging;
Strive to identify and call forth the individual gifts of students and inviting them to put those gifts at the service of the common good;
Build partnerships with the home and parish in an effort to create an inclusive, holistic and hospitable Catholic school community:
Evangelize through a love for wisdom and truth, and an integration of faith, culture, and life. Furthering for students a Catholic perspective of learning and life.