We Lead Club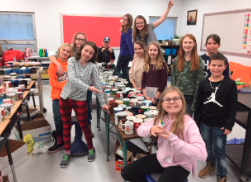 WE Lead is a social justice group at GHP. WE are a group of dedicated students who have creative ideas and lots of energy to put towards making the world a better place! Following students interests, WE raise funds and awareness for different social issues.
Whether it's collecting food for our local food bank or raising funds to empower girls in developing countries through Education, WE lead the way at GHP!
WE are often collecting items to support our efforts. It may be pennies, socks, or teddy bears- but whatever the collection, please know that we appreciate your support!
Bake Night
As "Seasoned" veterans of middle school, we know that kids love to eat! We like to "stir" things up occasionally by offering a bake night for interested students.Two teachers, twenty students and five kitchens add up to some tasty times!
Recipes have been seasonal, and are tried and true! Bake night gives students the opportunity to "mix" with different age groups and "rise" to the occasion. These nights have proven to be very popular this year and we are trying to keep the cost of supplies as low as possible. Your support for these events can't be "beat". 
Do we like to encourage collaboration at GHP? You "butter" believe it!