School Intramurals
November Schedule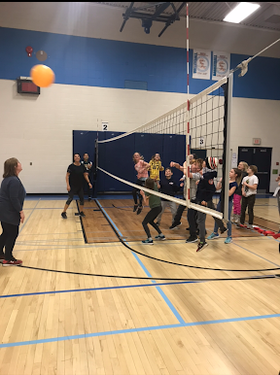 The gym will be available during the second half of lunch for students to participate in school intramural on their designated day.
October- After a month long battle, the 6-1's challenged and defeated the teachers in volleyball- way to go!
November- Please see below schedule for the month of November for Basketball
Monday- Grade 5
Tuesday- Grade 6
Wednesday- Grade 7/8
Thursday- Grade 8/8
Friday- Grade 5 (If losing their Monday to no-school days)
* Only 14 basketballs will be distributed, sharing is expected! Basketballs are not allowed to leave the gym. Any rough-housing, lack of problem solving, or disrespect to the supervisors will result in immediate dismissal of the gym- PLAY NICE AND BE RESPECTFUL!
* Please arrive in the gym during the second half of lunch on your grade's designated day. Anyone arriving in the gym BEFORE the bell, will not be allowed to participate!