Open House Information 2021
Welcome to Middle School GHP Parent Information Night - Feb 18, 2021 @ 7:00 pm
GHP Virtual Open House March 3, 2021 @ 7:00 pm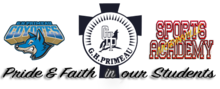 Join us to learn more about our amazing school!
Our GHP 2021 Open House on March 3 @ 7:00pm is going virtual this year!
Visit us online for a self-directed exploration of our school.
Meet the GHP Staff
Explore our school with a "self-directed" virtual tour 
Learn about our programming choices for English and French Immersion 
Meet our Sports Academy team for Hockey and Cheer
Discover our dynamic program options
"Visit" our school teams 
Q&A opportunity with each school team
See You Soon!  Click here to register. 
GHP 2021 Open House Video Trailer
GHP Virtual Open House Postcard 2021 
PRIDE and FAITH in our students. 
Enhanced Academic Programming (EAP)
Enhanced Academic Programming (EAP) - Grades 7-9 or 6-8 is an advanced-level program for junior high students.
Students are provided with opportunities to choose enrichment tasks and assignments to deepen their knowledge and advance their skills and competencies (in such areas as critical and creative thinking and communication) in varied subjects. Advanced Placement (AP) programming prepares high school students for college and university studies. It is recognized by post-secondary institutions for dual credit (high school and post-secondary).
École Georges H. Primeau Middle School will inspire students to learn about the MCHS Computer Science AP course by visiting the program and by offering a junior computer science principles course for all students through a variety of introductory activities that encourage computational thinking.